October 18th saw the second of 2018's FirstCare User Group events, where we invite clients to a notable venue to share service updates, industry insights and networking opportunities.
We were hosted by Altitude London, which besides offering breath-taking views of the city from its 29
th
floor event space, boasts a fully functional cinema – ideal for showcasing our new systems, and a great exx$cuse for a 'movie premiere' theme!
'Walk of Fame' stars, showcasing the headline features of the new MyFirstCare system
MyFirstCare: The Sequel
With the event firmly focused on FirstCare and showcasing our investments into service enhancement, clients were treated to the first ever live demo of the new MyFirstCare system; now in its final stages of development.
The live premiere of the new MyFirstCare interface at Millbank Media Centre, Altitude London
The intuitive interface was demonstrated, which can be accessed as easily via mobile devices as it can from a desktop. Guests were guided through its massive range of benefits – including time-saving integration with our new phone system and multiple configuration possibilities – and we asked for their feedback on preferences for various facets of the system when it goes live in 2019.
FirstCare users discuss and feedback on the new system's multiple configuration options
Absence trend analysis
Among FirstCare's many benefits for business is the power of its data for planning, talent management and wellbeing decisions. We've recorded more than 16,500,000 days' absence data, and before each User Group we crunch the numbers to offer insight with practical benefits.
Our analysis reveals that long-term sickness can be reduced by 29% through early intervention
Here are some of the highlights from this year's analysis:
A return to work interview compliance rate of more than 70% can reduce absence by 22%.
The duration of long-term sickness can be reduced by 12% if the intervention point is under 20 days.
While seasonal absence trends are to be expected, there is a proportional correlation between low temperatures and rates of absence.
Mental health absence follows seasonal trends, with prominent spikes in September and January.
Clinical update
Mental health featured prominently in the nursing team update, with clients being signposted to the latest leading industry publications on mental health in the workplace: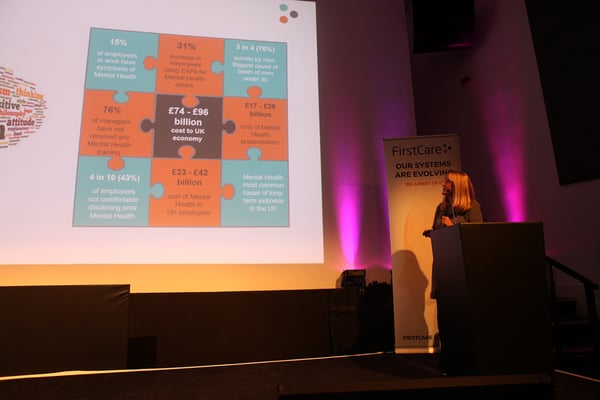 The nurse team update looked at stats surrounding mental health in the workplace
There was a review of recent and upcoming updates to the service; tailored to greater responsiveness and enhanced absence data in future reporting.
We also proudly shared the news that two members of the FirstCare nursing team; Nurse Advisor Jane Johnson and Team Manager Jen Curtis had been shortlisted for the UK Contact Centre Forum Awards, to be decided on 2nd November.
Ask the Experts over lunch
For lunch, guests were invited to Altitude's 29th floor event space, with 360 degree views of the London skyline, overlooking the Thames.
One of the spectacular views from Altitude London, overlooking Westminster
The lunchtime Ask the Experts forum gave FirstCare users the opportunity to discuss any aspect of the service, face to face with members of our management team.
Operations Director, Jon Candlish; General Manager, John Coyne and Clinical Governance Officer, Suzanne Marshall were on hand to answer user queries.
The FirstCare Awards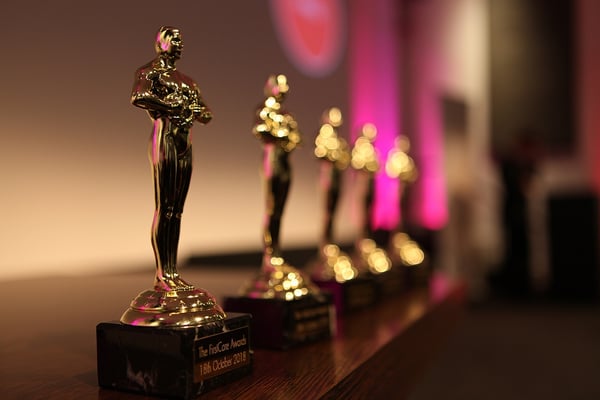 Over the past 14 years, the FirstCare service has recorded some incredible 'milestone' statistics that we were keen to share with clients. These included:
5,632,815 lifetime logins to the MyFirstCare portal
15,553 lifetime Staff in Post (SIP) files

9,176,450 lifetime calls handled
14,027,142 lifetime email notifications
It's all eyes on screen, as the FirstCare Awards are announced
In order for our service to achieve its full potential requires time and effort from users too; something that we acknowledged with FirstCare Awards across the following categories:
Most logins to the MyFirstCare portal: the winner in this category had logged in more than 12,800 times
The best performing Staff In Post (SIP) file: the winner in this category had an exception rate of just 1.25%
The Lifetime Achievement Award for use of FirstCare: the winner in this category had totalled 5,142 MyFirstCare logins, 4,277 days as a FirstCare customer, and 100% attendance at FirstCare User Groups
The Co-op's Wellbeing Journey
With so much focus on FirstCare's ever-growing capabilities, it was great to hear how a new client is putting our service to good use.
Paul Caudwell, Health & Wellbeing Manager for the Co-op described how the Group's decided to use FirstCare for the powerful data it could provide to inform the best use of budget for wellbeing provision, and greater consistency in absence procedures over a large organisation with many diverse branches.
Paul Caudwell discusses the Co-op's wellbeing road map for 2018
The User Group will return…
With FirstCare celebrating its 15th anniversary in 2019, the burning question is, how do we follow this User Group? Watch this space for updates in the new year!
In the meantime, see the gallery below for more photos of the FirstCare User Group, October 2018.